Objective
The general objective of this group is the design, processing and characterisation of glasses, glass-ceramics and sol-gel materials, going from the structural features to properties (optical, mechanical, chemical, thermal, electrical, etc) and applications.
Research lines
The research lines are focused on topics related to glass, glass-ceramics and sol-gel materials from basic research up to applications in the industrial glass sector and other final users of glassy materials.
Aim of our projects
Topics connected to energy and environment research are the aim of most projects developed in the last 10 years. Different materials and components for fuel cells (PEMFC membranes, sealing glasses and glass-ceramics for MCFC and SOFC), solid electrolytes and electrodes for Li-batteries, low temperature sealing of systems in solar energy devices and nuclear plants, come together with protective and environmentally friendly anticorrosive coatings, mesostructure coatings with photocatalytic activity for abatement of water or gas pollutants and solar cells, nano glass-ceramics with photonic applications, and energy saving, an important issue with different approaches, from industrial glass furnaces to solar and heat control glasses for buildings.
News
Madrid, 07 de junio de 2022.- Ecovidrio, la entidad sin ánimo de lucro encargada de la gestión del reciclado de...
Read More
La cadena de reciclaje de envases...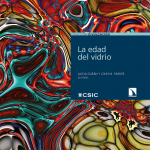 Presentación de "La edad del vidrio"...
El Año Internacional del Vidrio ha...
Ceremonia de Apertura del Año Internacional...
La Vanguardia: Renovables y edificios marcan...
El Mundo: El Año Internacional del...
Alicia Durán Premio de Investigación Otto...
Nature: Glass is the hidden gem...
De la fuga de cerebros a...
La técnica del vidrio soplado: declarada...
Jadra Mosa y Mario Aparicio del...
Alicia Durán has been elevated to...
United Nations approves 2022 as the...
Resolution for the GA of the...
Great success of the Worldwide Presentation...
Día Internacional de la Mujer y...
SPECIAL ISSUE WOMEN IN GLASS –...
Alicia Durán recibe el Phoenix Award...
Alicia Durán, Research Professor of CSIC,...
Special issue in Journal of Non-Crystalline...